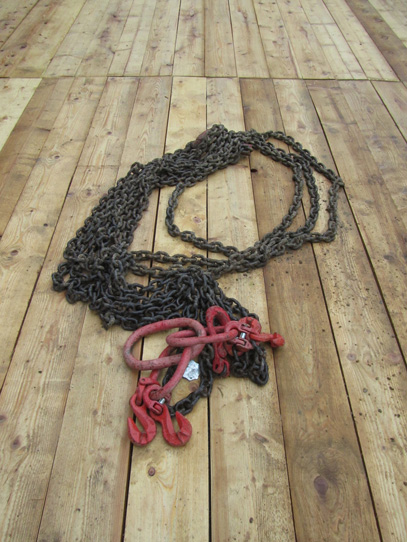 During my residency at the British Museum, I discussed my work with Philip Attwood, the Keeper of Coins and Medals, he introduced me to the museum's incredible collection of modern medals, which inspired me to make a medal of my own.

The medal is made from taking a lifting chain from the building site, used by the cranes, and separating it into its 800 individual links. The separating of the links was carried out using a gas torch, heating and then twisting and prizing them apart. This made each link a unique object. Each link was then struck with a commemorative mark, to celebrate the completion of the building.

This medal brought together two themes I had been working on during my residency. The first was the found object, I had always been collecting and working with the fragments of material left behind on site. The second was the repetitive actions of people working on site, but what each action created was unique to what had come before and what would come after.


These medals are to be displayed temporarily once the building is complete, all the people who worked on the building will then come and choose a medal, to take away as a souvenir, so this piece of work will disperse with the people that came together to create the building.